Learn Traditional Magic | Energy Work | Curse Clearing | Soul Tending | Healing Craft | Witch School | Crow Song - Seattle, WA
Media Magic...
featured podcasts and video
---
​Transitional Wisdom
With Nash & Cody:
Episode 7: Self Advocacy, HRT, & Sex Talk with Ylva​
April 16th, 2018

In this episode: Ylva talks self-advocacy, the absurdity of navigating reductionist oppression in the medical system, empowering YOUR gender affirming process, divesting from gender essentialism (especially within the trans and queer community) the horror show that can be the joy of dating while Trans. And speaking of dating, Ylva's a babe and totally available...
---
---
---
Is Witchcraft Having a Moment?
Practicing Witches of the Pacific Northwest Weigh In
​October 30th, 2017

A SPARK PUBLIC story by Sarah Strunin & Dylan Rupert. The trendiness of witchcraft seems to have seeped into mainstream pop culture. Now some internet-savvy witches in the Pacific Northwest are adding their own politically minded take to the conversation. Featuring Ylva Mara of The Cunning Crow Apothecary, Bri Luna of The HoodWitch and W.I.T.C.H.PDX


---
Media Magic...
featured articles and publications
---
---
---
---
Also Featured in:
---
Events, Lectures, & Speaking Engagements
---
---
Powered by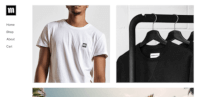 Create your own unique website with customizable templates.