Learn Traditional Magic | Energy Work | Curse Clearing | Soul Tending | Healing Craft | Witch School | Crow Song - Seattle, WA
Working with Lunar Cycles to Empower your Daily Rhythms.​​​​
Drawing Down the Moon:
Working with Lunar Cycles to Empower your Rituals

March 3rd, 2018 from 10am - 6pm

Class Cost: $150 (sliding scale available)

The cycle of the moon has long guided the cycles of our lives, with each phase offering a unique opportunity to reflect on and empower each step of the way.

Not only does the moon impact our emotional and physical rhythms, it's cycles intimately affect our rituals and spell crafting. The primary focus of this class is learning how to work within the natural ebb and flow of the moon's magic as it relates to and impacts our daily lives.

Tho conversations and teachings of Moon Magic often center solely around biology, those teachings can be exclusive to those whose relationship with the moon may not be in alignment with that biological perspective. Additionally, our relationship with the power of the moon is further nuanced beyond what our bodies can and cannot do.

The approach of this class seeks to liberate the magic of the moon from the oppression of gendered magic. We will discuss the natural influence of the moon on our physical, emotional and spiritual selves. Bare in mind that biology will not be the central theme of our work, tho we will briefly touch on issues of fertility for those who may be interested.

For the purpose of liberating our relationship with the moon, I will be centering the conversation thru a gender non-binary and trans inclusive lens. This is in effort to redirect our practices from biology based magic and align them towards a more inclusive craft, which can include the empowerment of biology if you choose. If however you are interested in resources about harnessing the magic of the moon primarily as a ritual of fertility, I am happy to provide them for you.

Some objectives we will cover in this course:

Learn to align our craft with the cycles of the moon
Discus the unique empowerment of each lunar phase
Learn to journey into the magic of each lunar phase to focus your intentions
Practice harnessing the magic of each lunar phase
Plan a personal ritual using the information discussed in class
Highlight commonly used and personally powerful correspondences (herbs, crystals, chants) to help you embody your lunar workings
We will conclude the class with a Full Moon Empowerment

---

---
Powered by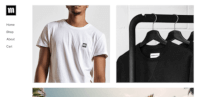 Create your own unique website with customizable templates.